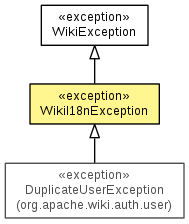 org.apache.wiki.api.exceptions.WikiI18nException
All Implemented Interfaces:

Direct Known Subclasses:

---




public class WikiI18nException
extends WikiException

A generic Wiki exception, meant to carry key & args to construct i18n messages to show meaningful messages to end-user. Classes and/or JSPs on the web tier are responsible of constructing the appropiate message.

Since:

2.9.1

See Also:
Method Summary

Methods inherited from class java.lang.Throwable

addSuppressed, fillInStackTrace, getCause, getLocalizedMessage, getMessage, getStackTrace, getSuppressed, initCause, printStackTrace, printStackTrace, printStackTrace, setStackTrace, toString
Copyright © 2001-2019 The Apache Software Foundation. All rights reserved.