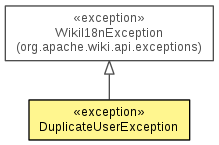 org.apache.wiki.auth.user.DuplicateUserException
All Implemented Interfaces:

---




public final class DuplicateUserException
extends WikiI18nException

Exception indicating that an identical user already exists in the user database.

Since:

2.3

See Also:
Method Summary

Methods inherited from class java.lang.Throwable

addSuppressed, fillInStackTrace, getCause, getLocalizedMessage, getMessage, getStackTrace, getSuppressed, initCause, printStackTrace, printStackTrace, printStackTrace, setStackTrace, toString
Copyright © 2001-2019 The Apache Software Foundation. All rights reserved.