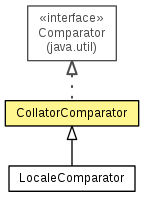 org.apache.wiki.util.comparators.CollatorComparator
All Implemented Interfaces:

Direct Known Subclasses:

---




public class CollatorComparator
extends Object
implements Comparator<String>

A comparator that sorts Strings using a Collator. This class is needed because, even though Collator implements Comparator<Object> and the required compare(String, String) method, you can't safely cast Collator to Comparator<String>.
Method Summary

Methods inherited from interface java.util.Comparator

comparing, comparing, comparingDouble, comparingInt, comparingLong, equals, naturalOrder, nullsFirst, nullsLast, reversed, reverseOrder, thenComparing, thenComparing, thenComparing, thenComparingDouble, thenComparingInt, thenComparingLong
Constructor Detail

CollatorComparator

public CollatorComparator()

Default constructor uses the current locale's collator.

CollatorComparator

public CollatorComparator(Collator collator)

Construct with a specific collator.

Parameters:

collator - the collator to be used for comparisons
Copyright © 2001-2019 The Apache Software Foundation. All rights reserved.