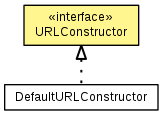 All Known Implementing Classes:

---




public interface URLConstructor

Provides an interface through which JSPWiki constructs URLs. JSPWiki calls the methods of this interface whenever an URL that points to any JSPWiki internals is required. For example, if you need to find an URL to the editor page for page "TextFormattingRules", you would call makeURL( WikiContext.EDIT, "TextFormattingRules", false, null );

Since:

2.2
Copyright © 2001-2019 The Apache Software Foundation. All rights reserved.