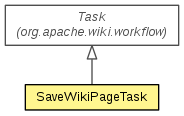 org.apache.wiki.tasks.pages.SaveWikiPageTask
All Implemented Interfaces:

---




public class SaveWikiPageTask
extends Task

Handles the actual page save and post-save actions.

See Also:
Method Summary

Methods inherited from class org.apache.wiki.workflow.AbstractStep

addError, addSuccessor, getAvailableOutcomes, getEndTime, getErrors, getMessageArguments, getMessageKey, getOutcome, getOwner, getStartTime, getSuccessor, getWorkflow, isCompleted, isStarted, setOutcome, setWorkflow, start
Copyright © 2001-2019 The Apache Software Foundation. All rights reserved.