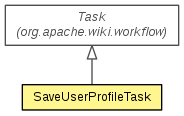 org.apache.wiki.tasks.auth.SaveUserProfileTask
All Implemented Interfaces:

---




public class SaveUserProfileTask
extends Task

Handles the actual profile save action.

See Also:
Method Summary

Methods inherited from class org.apache.wiki.workflow.AbstractStep

addError, addSuccessor, getAvailableOutcomes, getEndTime, getErrors, getMessageArguments, getMessageKey, getOutcome, getOwner, getStartTime, getSuccessor, getWorkflow, isCompleted, isStarted, setOutcome, setWorkflow, start
Method Detail

execute

public Outcome execute()
                throws WikiException

Saves the user profile to the user database.

Specified by:

Specified by:

Returns:

Throws:
Copyright © 2001-2019 The Apache Software Foundation. All rights reserved.