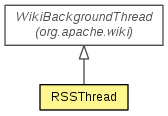 org.apache.wiki.rss.RSSThread
All Implemented Interfaces:

---




public class RSSThread
extends WikiBackgroundThread

Runs the RSS generation thread. FIXME: MUST be somewhere else, this is not a good place.
Method Detail

backgroundTask

public void backgroundTask()
                    throws Exception

Runs the RSS generator thread. If a previous RSS generation operation encountered a file I/O or other error, this method will turn off generation. false.

Specified by:

backgroundTask in class WikiBackgroundThread

Throws:

Exception - All exceptions are thrown upwards.

See Also:
Copyright © 2001-2019 The Apache Software Foundation. All rights reserved.