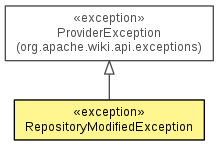 org.apache.wiki.providers.RepositoryModifiedException
Method Summary

Methods inherited from class java.lang.Throwable

addSuppressed, fillInStackTrace, getCause, getLocalizedMessage, getMessage, getStackTrace, getSuppressed, initCause, printStackTrace, printStackTrace, printStackTrace, setStackTrace, toString
Constructor Detail

RepositoryModifiedException

public RepositoryModifiedException(String msg,
                                   String pageName)

Constructs the exception.

Parameters:

msg - The message
pageName - The name of the page which was modified

Method Detail

getPageName

public String getPageName()

Return the page name given in the constructor.

Returns:

The page name.
Copyright © 2001-2019 The Apache Software Foundation. All rights reserved.