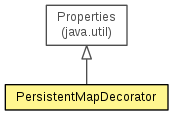 All Implemented Interfaces:

---




public class PersistentMapDecorator
extends Properties

Adds the load / save - functionality known from the Properties - class to any Map implementation.

See Also:
Method Summary

Methods inherited from class java.util.Properties

getProperty, getProperty, list, list, load, load, loadFromXML, propertyNames, save, setProperty, store, store, storeToXML, storeToXML, stringPropertyNames

Methods inherited from class java.util.Hashtable

clone, compute, computeIfAbsent, computeIfPresent, contains, elements, forEach, getOrDefault, keys, merge, putIfAbsent, rehash, remove, replace, replace, replaceAll
Copyright © 2001-2019 The Apache Software Foundation. All rights reserved.