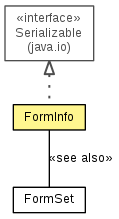 org.apache.wiki.forms.FormInfo
All Implemented Interfaces:

---




public class FormInfo
extends Object
implements Serializable

Container for carrying HTTP FORM information between WikiPlugin invocations in the Session.

See Also:
Constructor Summary

Constructors

Constructor and Description
FormInfo()

Creates a new FormInfo with status == OK.
Field Detail

ERROR

public static final int ERROR

State: There was an error.

See Also:
Copyright © 2001-2019 The Apache Software Foundation. All rights reserved.