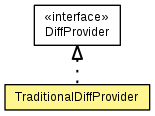 org.apache.wiki.diff.TraditionalDiffProvider
Method Detail

makeDiffHtml

public String makeDiffHtml(WikiContext ctx,
                           String p1,
                           String p2)

Makes a diff using the BMSI utility package. We use our own diff printer, which makes things easier.

Specified by:

makeDiffHtml in interface DiffProvider

Parameters:

ctx - The WikiContext in which the diff should be made.
p1 - The first string
p2 - The second string.

Returns:

Full HTML diff.
Copyright © 2001-2019 The Apache Software Foundation. All rights reserved.