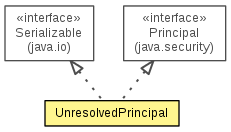 org.apache.wiki.auth.acl.UnresolvedPrincipal
Method Summary

All Methods

Instance Methods

Concrete Methods

Modifier and Type
Method and Description
boolean
equals(Object obj)

An unresolved principal is equal to another unresolved principal if their names match.

String
getName()

Returns the name of the principal.

int
hashCode()

The hashCode of this object is equal to the hash code of its name.

String
toString()

Returns a String representation of the UnresolvedPrincipal.
Constructor Detail

UnresolvedPrincipal

public UnresolvedPrincipal(String name)

Constructs a new UnresolvedPrincipal instance.

Parameters:

name - the name of the Principal
Copyright © 2001-2019 The Apache Software Foundation. All rights reserved.