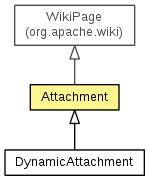 org.apache.wiki.attachment.Attachment
All Implemented Interfaces:

Direct Known Subclasses:

---




public class Attachment
extends WikiPage

Describes an attachment. Attachments are actually derivatives of a WikiPage, since they do actually have a WikiName as well.
Method Summary

Methods inherited from class org.apache.wiki.WikiPage

clone, compareTo, getAcl, getAttribute, getAttributes, getAuthor, getLastModified, getName, getSize, getVersion, getWiki, hashCode, hasMetadata, invalidateMetadata, removeAttribute, setAcl, setAttribute, setAuthor, setHasMetadata, setLastModified, setSize, setVersion
Constructor Detail

Attachment

public Attachment(WikiEngine engine,
                  String parentPage,
                  String fileName)

Creates a new attachment. The final name of the attachment will be a synthesis of the parent page name and the file name.

Parameters:

engine - The WikiEngine which is hosting this attachment.
parentPage - The page which will contain this attachment.
fileName - The file name for the attachment.
Copyright © 2001-2019 The Apache Software Foundation. All rights reserved.